Choosing the right type of windows in a construction project is crucial not only in consideration of building design concerns but also to improve insulation, maximise the use of natural light, enhance property value and attract investors.
Because of these reasons, selecting the most appropriate window type has become more challenging for building owners. Good thing there are several types of windows in Australia that building owners can choose from.
Of course, careful selection is key.
If you are currently torn or unsure about what makes one option better than the other, we've put together this helpful guide that's meant to make window selection a less tricky exercise.
Current window style trends – aluminium takes centre stage
The general concern for the environment, particularly in relation to global warming, is pushing people – including homeowners – to be more judicious in their selection of building materials. Therefore, we can also attribute the growing popularity of aluminium to this greater awareness of how the choices we make impact our planet and our lives in the long term.
Among the different types of windows, aluminium window frames are a great eco-friendly choice, as they are 100% recyclable and non-toxic. In fact, during recycling, aluminium windows only require 5% of the energy needed during initial production. Also, when combined with a thermal break, the energy efficiency of aluminium windows can easily rival more expensive wooden and uPVC frames.
Aside from their improved energy efficiency, aluminium window frames are durable and built to weather the elements. In fact, with minimal care and maintenance, they should serve you well for up to 30 years.
Window styles and types explained
When it comes to choosing the kind of window that will fit seamlessly into your home or building's architectural style or overall aesthetic, there are several options available. However, the wide array of options can also make selection more difficult and even confusing.
So, to help you out, below is a list of the more popular window styles and types, plus the pros and cons of each.
Bi-fold windows
As this is one of the most common window styles in Australia, you're probably quite familiar with bi-fold house window types (aka 'folding' or 'concertina' windows), which traditionally comprise two panels that open fully in the middle. These make a great choice if you wish to maximise airflow and enhance the look of your space by providing a seamless way to open your interiors to the outdoors. They also have outstanding thermal performance and easily satisfy building regulations and safety requirements. Since bi-fold windows have special hinges and can be fastened shut using a high-security locking system, you can depend on them to provide a high level of security.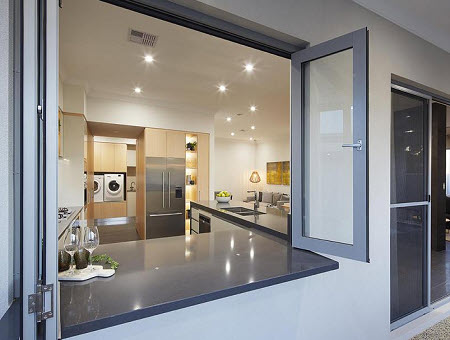 Pros:
Unobstructed panoramic views
Maximum sunlight and ventilation
Stylish and versatile
Secure – can come with multiple locking points
Cons:
Not ideal for small spaces
May be expensive, depending on the materials used
Sliding windows
Sometimes called 'slider' windows, sliding windows consist of windows positioned side by side, which then slide horizontally along a track. There are styles where both panels slide, whilst there are also those where one panel is fixed, leaving only the other one with the ability to slide. In places where safety and maximising space are important, sliding windows can provide both. They also present fewer potential mechanical problems as they are easy to open and operate. They are also more affordable than casement windows.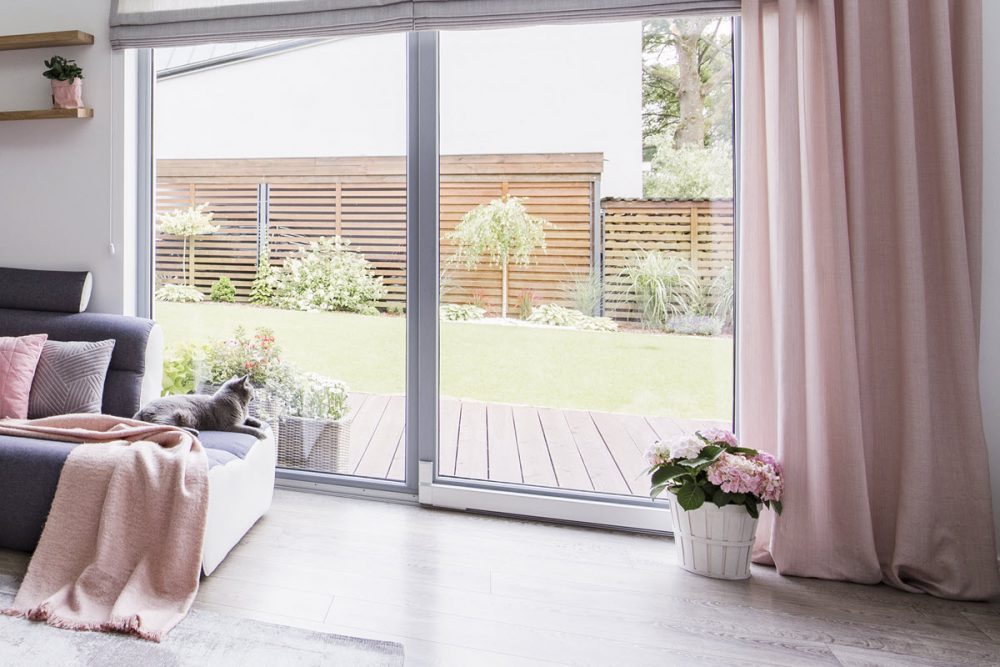 Pros
Durable, as there are no cranks or mechanisms to maintain
Simple design keeps costs to a minimum
Cons
Old-fashioned – usually associated with the 1950s and 1960s
Dirt and debris can accumulate in the tracks
Limited sizes and shapes
Casement windows
Casement windows crank open horizontally on hinges mounted at the top and bottom of one side. In some applications, the other side is fixed or stationary whilst one side pivots open just like a door. In places where strong winds are an issue, closed casement windows provide superior sealing and wind resistance, particularly when the direction of the wind is toward your home. However, these types of windows require maintenance at the hinges and seals to ensure their consistent performance.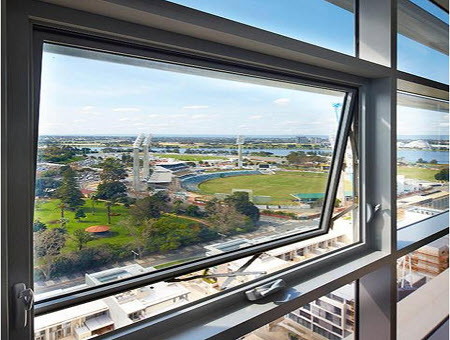 Pros
Tightly sealed when closed to effectively keep out drafts
Relatively secure against intruders due to narrow opening
Easy and low maintenance
Good-quality insulation
Variety in terms of designs, sizes, and materials
Cons
Mechanical crank subject to faster wear and tear
Difficult to use with window screens, as they crank outwards
Awning windows
Similar to casement windows, awning windows come with mechanical cranks that open and close them. However, awning windows open from the bottom when cranked, as the upper section is fixed whilst the bottom section is designed to pivot outward and up.
Awning windows provide optimum rain and wind protection as they can be fashioned to provide a full perimeter pressure seal. Not only does this keep rain and wind out during inclement weather, but it also provides excellent insulation and noise reduction. You can control ventilation by simply opening them outward to let the fresh breeze in. Awning windows are also attractive and can be used to maximise natural light.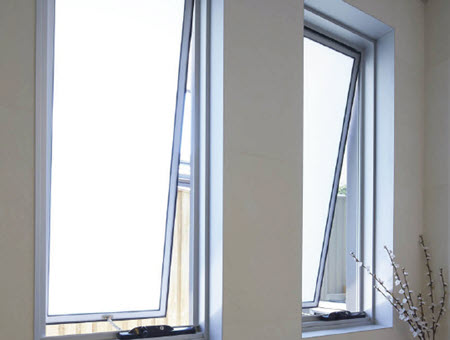 Pros
Secure – ideal for places where intruders are a big concern
Can be left open during rain for better ventilation
Cons
Mechanical cranks are subject to wear and have a high failure rate
Could be harder to clean if located on higher floors
Louvre or jalousie windows
Louvre (aka jalousie, slatted or crank-out windows) windows comprise horizontal slats (louvres) that can be adjusted and angled to allow more or less breeze and light.
These types of windows have a wider opening capacity, thereby allowing for maximum airflow. Louvre windows have adjustable blades that enable you to regulate the amount of breeze you let into your home or building. The same can be said in terms of natural light control and privacy. You can choose between aluminium and glass blades based on your building design.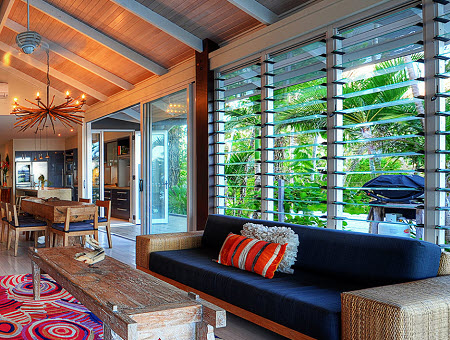 Pros
Wide opening area
Adjustable angles
Can be kept open during light rain
Cons
Not as secure and unsuitable for ground floor applications
Can get draughty during cold weather or winter
Double-hung windows
Double-hung windows are composed of two large sashes (frames that surround the glass panels) that slide up and down along vertical tracks.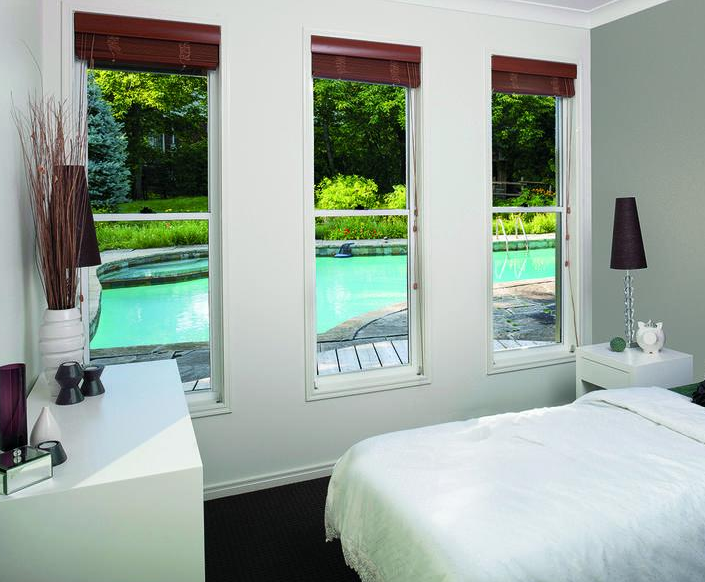 Pros
Wide selection of options available
Generally affordable
Easy to open and close
Vertical tracks don't accumulate as much dirt
Cons
Counterbalance springs and sash cords prone to wear and tear
Require occasional maintenance for smooth operation
Large opening can be a security hazard
Arch head windows
Arch head windows are arch-shaped and may comprise an entire, single arch window or one that's set above standard windows for ventilation.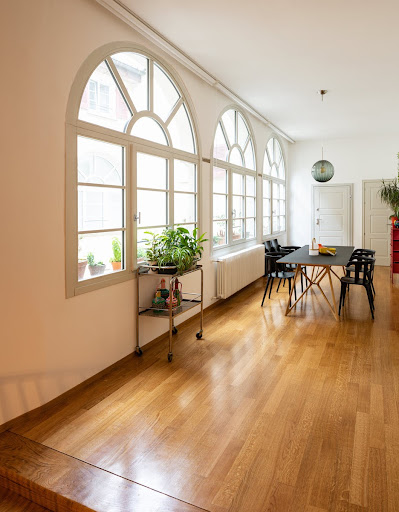 Pros
Aesthetically pleasing design
Visually interesting
Minimal maintenance
Cons
Custom windows
Just as the name suggests, custom windows can be tailored to suit your design and colour requirements where conventional window types don't work, making them one of the best types of windows.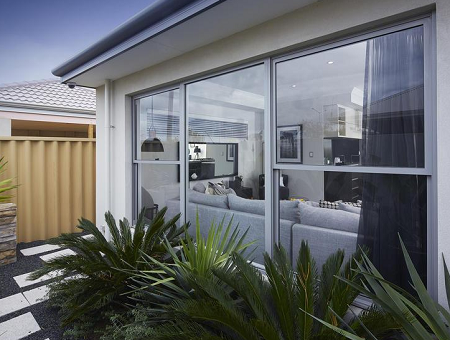 Pros
Strong and durable
Visually attractive and interesting
Tailored to suit your specific requirements
Cons
Can be more expensive than other window types
Security screen windows
Security screen windows are designed to be unobtrusive yet work to keep your home safe and secure.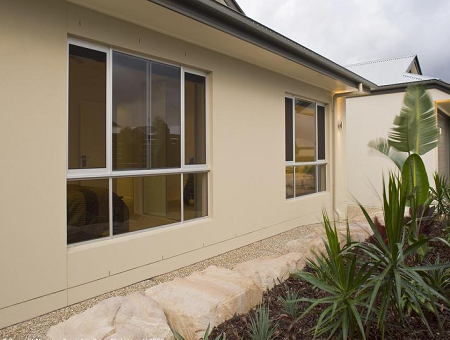 Pros
Strong, durable, secure
Optimal ventilation and natural lighting
Protection from insects
The unobtrusive design provides uninterrupted views of the outside scenery
Tailored to suit window measurements
Cons
Can be quite expensive
Require periodic cleaning
Aneeta® sashless windows
Aneeta® sashless windows are made to resemble fixed windows but can be opened like double-hung windows for better ventilation.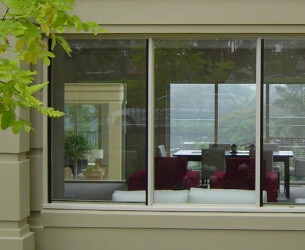 Pros
Seamless, modern and minimalist
Uninterrupted views of the outdoors
More natural light
Can be opened for optimal ventilation
Customisable for different design applications
Cons
Can be quite expensive
Require regular cleaning to maintain its look
Window opening types
Aside from considering the various window styles suitable to your home's overall aesthetic, you also need to consider the way a window opens. This is crucial for both security and design reasons, so check out these common window opening types:
Top hung: These windows have upper hinges and swing at the bottom along a horizontal axis. Designed mainly for ventilation, these windows don't open completely for safety purposes.
Side hung: With hinges on one side and a handle on the other, side-hung windows open fully and work great for ventilation and letting in natural light.
Fixed: These windows are fixed or stationary, so their applications are limited. They are primarily used for aesthetic purposes, as a series of them can offer uninterrupted views of beautiful scenery.
Folding: In homes where space is limited, folding windows are a great alternative to consider, as they fold like a book or accordion (depending on their width or size).
Sliding: Sliding windows are designed to slide along a horizontal track and help to save space. They also make ideal interior windows.
There are other window types in Australia based on their opening, so check with your supplier as to which one can best fulfil your requirements and expectations.
Types of window frames and materials
Choosing the right framing material is another crucial aspect of window selection. After all, the material you choose can affect the aesthetics of your home, as well as the energy efficiency, durability and maintenance requirements of your windows. Different materials have their own pros and cons.
When it comes to the types of windows in Australia based on the material, three specific materials stand out: timber, aluminium and vinyl.
Now, let's go over the more popular materials used in window frames.
Aluminium windows
Aluminium is clearly the right choice when it comes to selecting the best type of window frames. It's not only durable, low maintenance and more affordable than wood, but it's also the only other eco-friendly option aside from sustainably harvested wood.
Versatile and lightweight, aluminium is a popular material in making windows and doors. It is weatherproof and is not at the mercy of the elements as it won't shrink, warp or expand when exposed to sun and rain. What's also great about aluminium windows is that they now come in a range of styles and colours, so you can get ones customised to match the overall look of your building. Using aluminium also replaces timber usage. Although it does take a substantial amount of energy to produce aluminium windows, the energy savings you can get from using high-quality ones will more than compensate for this.
If you're looking for high-quality, energy-efficient aluminium framed windows, get in touch with Perth Window & Door Replacement Company.
Timber windows
Windows made of wood are attractive and provide superior insulation. However, they tend to cost more than other window types. To ensure their longevity and protect them from sun damage or rot, wooden windows need to be sealed using paint or a finishing coat. Also, if you're into a green building, you need to ensure the timber windows you are using are sourced sustainably.
Vinyl windows
The most affordable choice from among the three, vinyl also has a wide range of applications. They come in both all-vinyl and vinyl-clad options, almost unlimited colour choices and designs to match your building theme or look. However, it may not be the most durable material as variable temperatures can affect its performance.
| | | | | | | | |
| --- | --- | --- | --- | --- | --- | --- | --- |
| Type of Material | Strength | Durability | Maintenance | Energy Efficiency | Eco-Friendliness | Overall Quality | Cost |
| Aluminium | High | Up to 30 years | Low | Low but can be improved significantly with thermal break insulation | Readily recyclable and energy efficient during recycling | High | More expensive than vinyl and fibreglass |
| Wood | Medium | Up to 65 years | High | High | Must be sustainably harvested to be eco-friendly | Medium | Expensive |
| Vinyl | High | 20 to 40 years – suitable for residential applications | Very low | High | Carcinogenic – bad for living organisms and the environment | High | Very affordable |
| Fibreglass | High | 50 years | Medium | High | Could be toxic during manufacturing and disposal; not easily recyclable | High | More expensive than vinyl |
Performance score when selecting the right type of windows in Australia
The performance score of the windows you choose is also important as the following factors are covered, no matter the material.
R-value performance score
This measures the window's heat transfer capacity or how it regulates outdoor temperature (which may be extreme or uncomfortable) while maintaining a comfortable indoor temperature. Well-insulated windows, such as double glazed windows, have a high R-value. In fact, double-glazing windows provide so many benefits that they're becoming a growing trend in Perth homes.
U-value or U-factor performance score
The U-value is the opposite of the R-value. This value measures the tendency of a window to transfer heat; therefore, the lower the U-value of your windows, the better.
Solar gain (aka solar heat gain coefficient or SHGC)
This is used as an indicator of how much a window can heat up a room when the sun is up. In cold-weather regions, solar gain is a good feature. However, it can increase air-conditioning consumption in hot places or during the summer. The higher the solar gain score of your windows, the greater will be the heat gain.
Wind resistance or air leakage
This factor is used to indicate a window's ability to seal out air, measured in terms of cubic feet per minute (cfm). The lower the score, the better the window is able to seal out air.
Window colour trends and options
As an important aesthetic and functional aspect of your home, windows provide more than just natural light and superior ventilation; they can also add character to your home.
Windows enhance your home's design and street-side presence. They also say a little about your character as a homeowner. Therefore, choosing the appropriate window colour for your home (or building) is crucial to achieving your desired overall effect.
Some of the more popular window colours include:
White– Timeless, versatile and elegant, white instantly infuses your home exterior with a classic touch. It goes well with virtually any other colour, so colour pairing possibilities are endless.
Black– If what you want to achieve is a modern or contemporary look, you can never go wrong with black. It goes well with both dark and lighter-coloured homes.
Brushed aluminium– For modern or industrial-themed homes, brushed aluminium is a natural choice, as it exudes an elegant though high-tech aesthetic.
Purple– When paired with gunmetal grey, purple windows can add a dose of sophistication to your home exterior.
Grape – For homeowners who prefer bright or vibrant combinations, grape-coloured windows can be matched with aquamarine exterior paint.
Orange or yellow -To add an energetic vibe and uplifting mood to your home, combine yellow or orange windows with a crisp white exterior.
Navy blue– If you're looking for an elegant colour combination for navy blue windows, go with white. Alternatively, white windows look great on homes with a predominantly navy blue colour.
At Perth Window & Door Replacement Company, we offer a wide range of window colour alternatives to suit your design requirements and personal preferences.
Finding the right windows for your building
Now that you know the basics of window selection, particularly with regard to material and design, you can finally zero in on the best window type for your new building project.
If you need help in choosing the perfect windows to achieve your project goals, you can get in touch with us at Perth Window & Door Replacement Company.
We have a great team of experts ready to work with you and the best windows for the job.