Stamp your own personality onto your home with powder coated aluminium windows and doors from Perth Window & Door Replacement Company. Our range of aluminium colour door and window options is second to none in Perth, giving you the ultimate freedom of choice when it comes to customising your property to suit your tastes.
An outstanding range of aluminium window colours and door colours
We believe that your home should reflect who you are. Your front door no longer has to be plain white or black – although there's nothing wrong with these options, and they look beautiful in any setting! However, we want to offer people greater choice of aluminium door colours, which is why we are proud to present our excellent selection of powder coated aluminium front doors.
Even better, we also offer a complete range of aluminium window frame colours to match, so you can give your entire home a makeover in your own personal style. Or, if you prefer a contrasting look, you can choose different colours for your doors and windows, creating a completely unique aesthetic.
Our aluminium door and window colour chart
You can see here the huge variety of options we provide if you're choosing a colour for your powder coated doors and windows. If you prefer a more subtle look, we can supply you with timeless classic neutral colours, such as cream, beige and grey, to coordinate with all décor schemes and architectural styles.
Alternatively, you could warm up the appearance of your home with a red tone or give it an air of sophistication with blue or green windows and doors. Or, if you really want to create the impression of luxury, choose a stunning silver or bronze effect.
With Perth Window & Door Replacement Company, these upgrades aren't just limited to your home. You can also give your business property a makeover with powder coated aluminium windows and doors, as we happily cater to commercial customers, too. No job is too big or too small! Choosing powder coated doors and windows can be a great way to reflect your company branding in the look of your premises, enhancing your business in the minds of your customers.
Why choose powder coated aluminium windows and doors?
Our aluminium colour door and window products are all manufactured to the very highest standards. The powder coating is extremely strong, durable and capable of withstanding the Perth climate. So, it won't fade, and your doors and windows will continue to look beautiful for many years into the future. In fact, we are so confident in our products that we guarantee them for 10 years!
Even better, we can create custom windows and doors specifically designed for your individual property. These include powder coated aluminium sliding doors, screen doors, door frames and windows in all shapes and sizes.
We will consult closely with you at every stage of the process to ensure that the reality matches your vision. And, if you're not sure what aluminium window colours to pick, don't worry – we can help you here too, with our guide to some of the trendiest aluminium door and window colours in Australia!
Perth Window and Door Replacement supply Interpon Powder Coatings for your project as Interpon are committed to quality and excellence in their finishes.
The following colour ranges are available for your new windows and doors :
Excel

Anodic

Ultriva

Vivica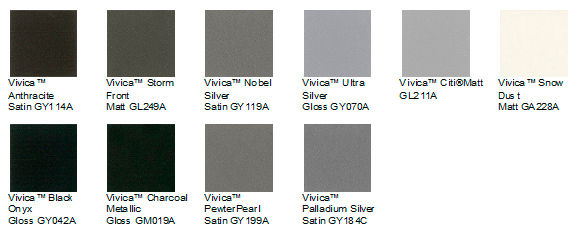 Colour Visualiser Tool
More colour options are available from our commercial supplier Carinya. If you are unsure which colour or finish to choose for your new door or window project, you can use their neat colour visualiser tool.
➜ Access Tool Now
Find out more about aluminium colour door and window options
At Perth Window & Door Replacement Company, we have been providing the people of Perth with beautiful new doors and windows for over 25 years. Our highly experienced team have all the expertise you need to complete a flawless installation, adhering to the highest standards of workmanship and safety at all times.
If you would like to find out more about our colour aluminium door and window options, please contact us for a consultation and a FREE quote. We are always happy to help you make your home makeover dreams come true!
Explore our latest blog on Trending Front Door Colours in 2020