When it comes to windows that have major problems, there are two main options to consider: repair or replace. Both have their own set of benefits and drawbacks, so it can be difficult to decide which is the best option for your home.
In this guide, we will outline when it's best to repair your existing windows, and when it's best to replace them with new ones. We'll also provide some tips on how to make the decision that's right for you.
When to Engage in Window Replacement
Foggy Windows with Poor Condensation Resistance
If you live in an area with high humidity, your windows may suffer from condensation. This can lead to the formation of mould and mildew, which can damage your windows and cause health problems for you and others.
If your windows are foggy or have poor condensation resistance, it's best to replace them. This is especially true if double glazed windows are causing the issue, as these windows should not be causing such troubles.
Major or Large Leaks
If your windows are leaking water, it's important to repair them as soon as possible. Water damage can lead to rot, which can weaken the structure of your window and cause it to fail.
If you have a major or large leak, it's best to replace your entire window frame with something more sturdy and durable.
Frame/Structural Damage and Age
Over time, your windows will start to show their age. The frames may become warped or cracked, and the glass panes themselves may become scratched or chipped. In addition, the seals around the window may fail, allowing air and water to enter your home.
If you find yourself in this situation, it's usually best to partake in replacing windows with such faults.
Discoloured Windows
If your windows are discoloured, it may be due to age or exposure to sunlight. While this isn't necessarily a sign that they need to be replaced, it could be an indication that they aren't as energy-efficient as they could be.
Replacing your windows with energy-efficient windows can help you save money on your energy bills.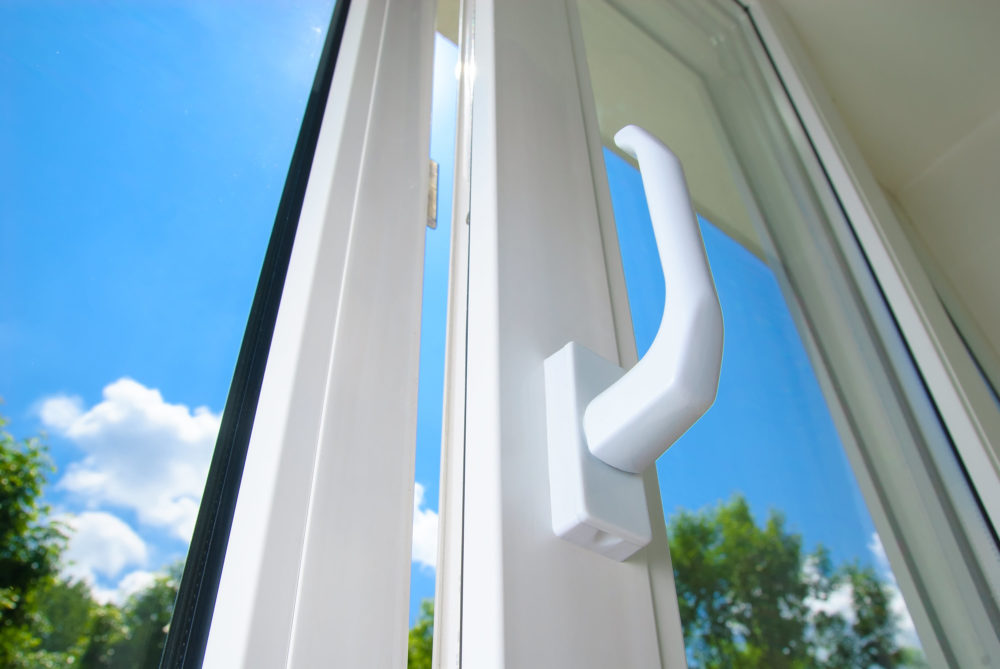 When to Engage in Window Repair
Cracked or Broken Glass
If only the glass in your windows is damaged, repairing the broken panes is usually the best option. However, replacement windows can be considered if the issue is repeatedly occurring in the same frame.
This type of repair is typically less expensive than replacing the entire window and can be done with multiple types, from single pane windows all the way to triple pane windows.
Drafty Windows
If your windows are drafty, it could be due to a problem with the sealant around the window. Whether this is caused by a fault in the exterior window casing or simply a result of old windows having wear and tear will determine if a repair or replacement is in order, but most situations involving draftiness can be repaired.
This is a repair that can usually be done by a professional who will inspect and repair window frames that showcase draftiness.
Stuck/Jammed Windows
When paint layers bridge the frame of a window to the pane/sash, this can create unnecessary rigidity that caused the window itself to become stuck and difficult to open.
Jammed or stuck windows are a repair that homeowners can usually do themselves by first removing any hardware, such as screws, nails, or staples. If the window is still not budging after this step has been completed, you may need to use a putty knife to pry open the window sash.
Once the window sash is removed, check to see if there are any broken pieces of wood or metal that could be causing the issue and repair or replace them as necessary. In some cases, you may need to replace the entire window frame if it's too damaged to repair.
Repairing vs Replacing Windows: What's the Best Choice?
As we've discussed above, there are a lot of different issues that can occur with windows – and the solution for said issues can vary.
What's important to understand is that – while we have listed a few situations where a repair can be performed – almost all of the problems above could be fully resolved with a window replacement.
The main factor in making the decision to repair or replace a window will be determinant on your available costs, however, window replacement is typically the better long-term solution.
Choose Perth Window and Door Replacement Company for all of your Window Needs
Whether you're looking for a window replacement or simply looking to get new windows installed elsewhere, we are here to help.
Perth Window and Door Replacement are able to provide plenty of windows to suit your home or business. Our wide range of windows can be fitted to plenty of frames to suit your home's colour pallet and style.
Get in touch with us today to find out more about how we can provide the perfect window and door solution for your property.