In any construction project that requires window and door replacement or installation, it's important to have confidence in what you install as a door frame. There are a wide array of options available to choose from – so much so that you may have some trouble deciding on one.
This guide will introduce you to the different types of doors available on the market and the benefits they provide so that you can make an informed decision for your next project.
Sliding Doors
One of the most popular types of doors is the sliding door. Sliding doors are great for a number of reasons – they're easy to open and close, they are simple to use, and they can save space in a room. They're also available in a variety of materials, so you can find one that fits your aesthetic.
Another great benefit of sliding doors is that they can be used as interior and exterior doors. Whether its bathroom doors for creating additional privacy, bringing more natural light with patio sliding doors, or another application, there are plenty of areas around the home where this type of door can come in handy.
French Doors
If large glass panels are more your style, then a french door may be what you're looking for. French doors are double doors that have two large panels of glass panes, with handles in the middle. They're often used as entryways to patios or gardens and can add a touch of elegance to any living space.
A big positive for french doors is their visual appeal. Due to the large amount of glass present, you can get big open views and bring in plenty of natural light. These qualities are so highly sought after that installing doors like these will also likely boost the value of the property.
Stacking Doors
Sometimes having options for how much your doors can open is at the top of your priority list. If so, you might want to consider stacking doors – also known as stacker doors, they're made up of several door panels which are narrower in width than conventional sliding doors.
Customisation is at the top of the benefits when it comes to stacking doors. Being able to control the number of panels that are open at any time means that you can adjust how much light and air makes it into a room. These doors are most suited to a setting with a wide doorway, such as alfresco or patio doors.
Bi-Fold Doors
Bi-Fold doors have seen a surge in popularity in recent years – and for good reason. Being a panel-version of hinged doors, the panels fold in on each other when opened.
The compactness of bi-fold doors makes them perfect for smaller spaces, as they don't require a lot of clearance to open. Another benefit is that they also provide an abundance of natural light thanks to the large glass panels and can make a small space feel larger.
The folding panels are also quite visually pleasing, adding a special touch that a standard hinged door doesn't have.
Front Doors
Making a good first impression is important in many aspects – but especially when it comes to homes. A new door situated as the entry point into your property can make all the difference in terms of appeal and value.
Aluminium-framed entry doors have the benefit of letting in natural light and letting you view your front yard. A front door can also be equipped with security measures such as a flyscreen and security mesh for protection from all kinds of intrusions.
Aluminium Doors
When it comes to materials, aluminium is one of the best to use on windows and doors alike. This is what makes aluminium doors one of the most popular additions to homes and businesses.
Bringing together the strength and functionality of steel doors and the aesthetics of more contemporary fittings make aluminium doors a popular option for being adapted into other types of doors. Aluminium sliding doors, aluminium glass doors, and aluminium front doors are all common options seen in more and more renovations, replacements and new home builds.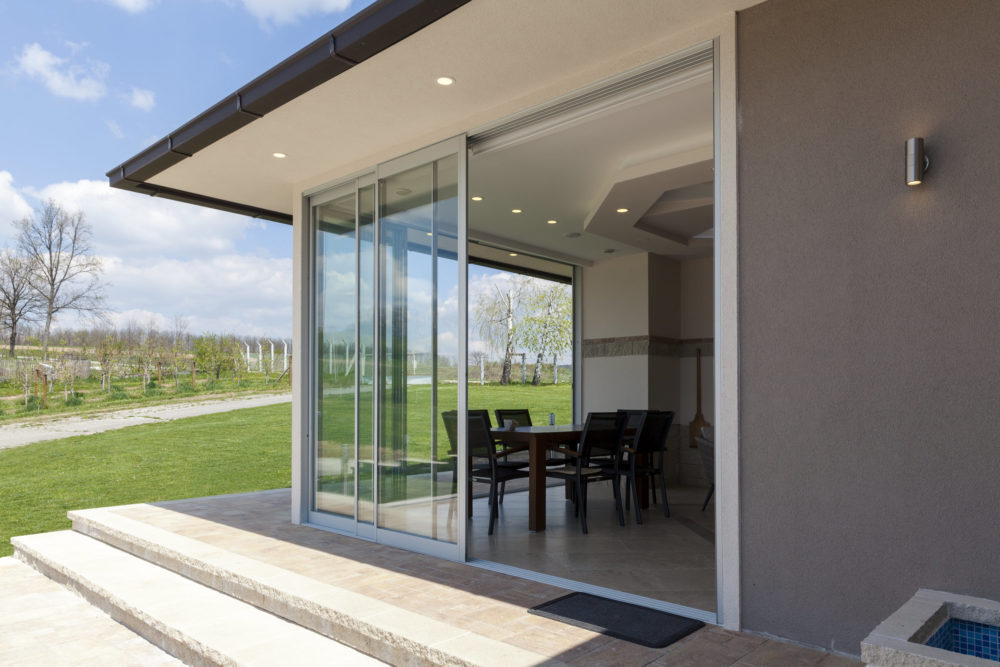 Security Screen Doors
Keeping your property secure is paramount for all owners – meaning a door with security at the forefront would bring great peace of mind. Security screen doors do just that, being made of high-quality stainless steel mesh.
A good security screen door allows your home strong protection while also allowing you to still see out through the door itself, giving you a good balance between safety and visibility. These doors can also be installed as either sliding doors or hinged doors, so you can get the right door for you.
Custom Doors
Occasionally you may find yourself struggling to make a choice since you have a particular requirement for the doors you want installed. In such a situation, a custom door solution may be exactly what you need. A professional door company can work with you to create a custom door that fits all of your specific needs and requirements based on location, space, and more.
Whether you want something ornate and elaborately designed such as sliding french doors or a more simple, functional solution, a made-to-measure custom door gives you exactly what you want for your property.
Get Your Exterior and Interior Doors Installed by Perth Window and Door Replacement
It's clear to see that there is a wide range of doors available for installation – and our team is able to help with all of your exterior and interior door needs.
The experienced team at Perth Window and Door Replacement has been servicing Perth for over 25 years, so you can rest assured that their products will be well worth it. Contact the team today and learn how they can help fit your home or business with the best doors on the market.