Your home means a lot to you. It's your personal space where you can relax and enjoy spending quality time with those you care about the most. So, if your home is intruded, this can be a traumatic experience, as well as an expensive one.
This is why you need to take home security seriously and keep your home protected against intruders. It's easier than you think to make your home safer and more secure. We have put together our top Perth home security tips, which you can follow to give yourself extra peace of mind and make sure your home remains your sanctuary.
1. Keep your doors and windows locked
Leaving doors and windows unlocked when you're out of the house is like inviting burglars into your home. You need to lock them every single time you go out and make sure your locks are fit for purpose. Deadlocks are the most effective type of locks for hinged doors, as they will not give way.
For maximum security, you can pair this with a digital lock. This means anyone wanting to gain entry has to know the code, and you can change the code as often as you wish.
2. Install security windows
Security windows have come a long way from the unsightly styles of the past. You can now purchase security windows with a see-through mesh made of tough stainless steel, giving you an unimpeded view of your surroundings while still offering all the strength and safety you need.
Even better, you can have security screen windows custom made to suit the architectural style and colour of your home. Increasing your security doesn't mean compromising on style! Similarly, our Invisi-Guard security doors go a long way when it comes to protecting your home from unauthorised intruders.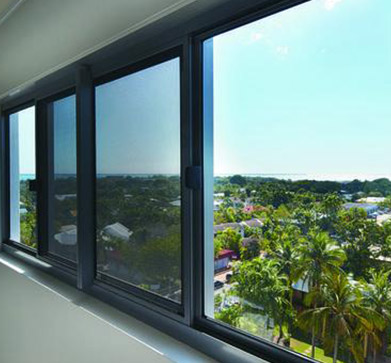 3. Use smart home technology
Your preventive maintenance strategy to deter burglars must include modern technology that enables you to synchronise and automate many of your security features, making them much more practical than they have been in the past. For example, security lights and alarm systems can now be set from a simple smartphone app, which will also notify you if any intruders are detected, so that you can respond straight away.
CCTV is also a realistic option for everyone now. Modern systems store all the footage in the cloud, so you don't need large and expensive data storage solutions at home. Footage can also be streamed live to your smartphone, so you can monitor your property even when you're not there, and call the police as soon as anyone enters your home.
However, all this technology is only useful if it actually works! A burglar will not be deterred by lights that don't switch on or an alarm that doesn't sound, so it's essential to keep all your security systems in good working order.
4. Protect your valuables
It goes without saying that you should never leave valuable items on view. Always make sure your electronic gadgets can't be seen from the windows, and if you buy something new, break up the packaging so it can't be recognised before putting it in the recycling. You should also make an inventory of everything you own, and photograph any new expensive items you buy, to give them a better chance of being traced if they are stolen.
It is also worth investing in a safe. Money and jewellery are the items most commonly stolen from homes, so if you can store these in a safe, along with other valuable items, you can protect your belongings more effectively.
5. Get a dog
Burglars are extremely worried about being discovered. The number one factor that discourages them from breaking into your home is if there is a dog on the premises. This is because dogs can make an unbelievable amount of noise if anything unexpected happens, making it much more likely the burglar will be caught.
Plus, dogs are the best companions, providing you with loads of fun and love in addition to improving your security!
More Perth home security tips
If you live in Perth and are concerned about improving your home security, the team here at Perth Window & Door Replacement Company are always happy to offer you the help and advice you need. Please contact us for more information and give yourself the extra peace of mind you need.