Fly screens and fixed security screens are a great option for adding some additional peace of mind to the doors and windows of your home. As another hot summer descends upon Western Australia, many households will be depending on fly screens to protect them from bugs, dust and more while keeping rooms cool with fresh air.
Due to being exposed to the elements and other materials, these screens can get quite dirty – which means that they need to be cleaned. This article aims to be a guide on how to best clean fly screens so they can stay looking pristine while keeping insects out.
Why Is Cleaning Fly Screens Important?
Fly screens and security screens can seem like set-and-forget products for some, but taking care of them is very important. From an aesthetic perspective, it makes sense to keep your screens clean – no one likes to look at dirty fly screens, after all.
However, leaving dirty screens uncleaned can cause additional damage to the screen itself. Dirt, dust and sea air can slowly chip away at the powder coating of your screen, and eventually eat away and leave holes in the actual fly screen.
Properly maintaining your screens will prevent these possible problems from occurring, leaving you with good peace of mind that they will continue to protect you from bugs and more outside your home.
What is the Best Equipment and Process For Cleaning a Fly Screen?
In order to clean your fly screens effectively, you should prepare the correct equipment. In most situations, a garden hose, damp cloth, soft-bristle brush, and bucket will be suitable for a standard clean. Some more stubborn dirt spots can require the hiring of a professional cleaner, but most situations won't call for this.
Once you have everything ready, follow the below steps to get the best clean:
Use your garden hose to remove general dust and other dirt off the screen. You can either hose down the screen flat on the ground or prop the screen up against an outdoor vertical surface like a wall.
Use your damp soft cloth soaked in warm soapy water and your brush to scrub away any more specific tough dirty spots such as bug or bird dropping residue that may be on the screen. Be sure to clean both sides of the screen, even if one side is much dirtier than the other.
Rinse the screen on both sides using the garden hose again. If you can still see some dirty spots, repeat steps 2 and 3 until satisfied.
Evident from the above guide, if your fly screens are removable, taking them off their fittings will make for an easier cleaning process. However, it is still possible to clean fixed screens – you can perform the same steps as above, but place towels around your window sills and floor on the inside and outside to ensure water doesn't get through into your home.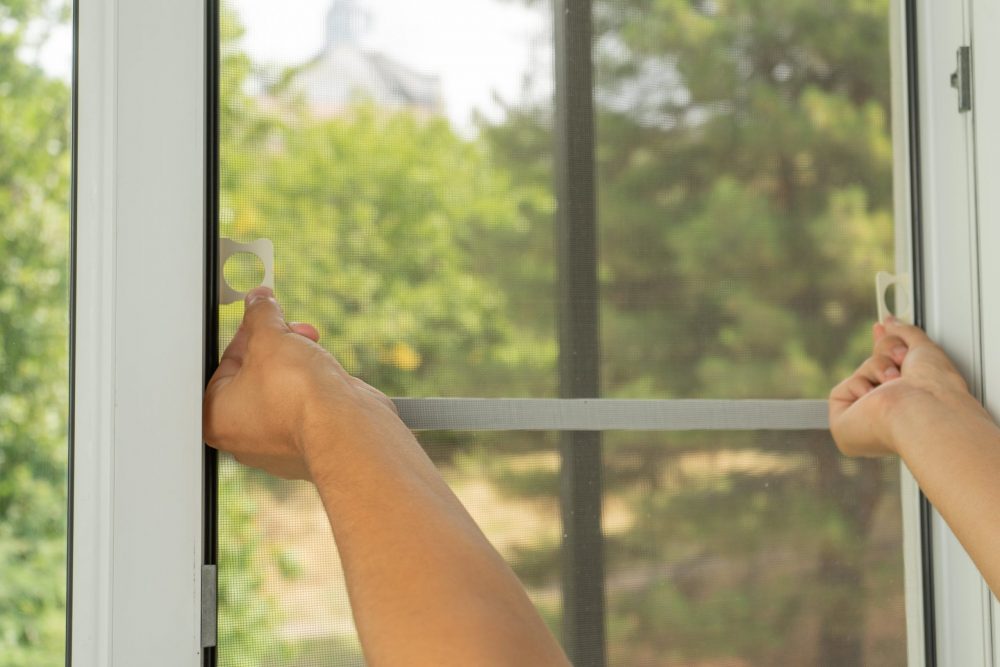 How Often Should I Clean a Fly Screen?
Knowing how to clean a fly screen is only part of the process – it is also important to know the frequency at which these screens need to be cleaned.
One major factor that influences how often you should be cleaning your fixed or removable fly screens is location. Screens that are closer to the coastline are more susceptible to harsher environments – salt air can even corrode metal screens in certain situations.
A general rule of thumb is to clean your fly screens every 3 months, increasing the frequency the closer you are to the coast. Properties in locations like Fremantle may want to clean these screens every month or two, while very coastal homes and businesses should be cleaning screens regularly – typically fortnightly or even weekly during certain months.
What To Avoid When Cleaning Fly Screens
When it comes to cleaning fly screens and security screens, going in blind or with a brief look through a guide is not the best idea. The point of cleaning these screens is to both renew their look and keep them in good condition so they don't deteriorate. Here are some potential things to avoid when performing your screen cleaning.
Avoid using equipment and chemicals that could potentially damage either the coating or material of the screen. This includes harsh brushes that can cause scratching and spirits that can even erode in some cases.
When washing with cloth and brush, be sure to not scrub so hard as to dent or otherwise damage the screen.
Get The Right Fly Screens and Security Screens from Perth Window and Door Replacement
Getting the right fly screens and security screens for your property is the basis for having good air flow through your rooms, and the best screens will stay cleaner for longer.
The experienced team at Perth Window and Door Replacement have been servicing Perth for over 25 years, so you can rest assured that their products will be well worth it. Contact the team today and learn how they can prepare your home or business for summer.