French Doors have come a long way since their invention in the 17th century and they have evolved a lot too. It has certainly remained a popular option for renovators and the home improvement industry in general.
As you may have noticed from one of your favourite Fixer Upper TV shows, the French Door trend continues in 2022 and will likely stay for many years to come. While they may further evolve, we believe they will never come out of fashion because of their unique and stylish features.
French Doors are not only aesthetically pleasing to the eyes, but their functionalities are amazing too – certainly a wise investment.
What are French Doors?
French doors are windows that act like doors. The features of French Doors are unique because glass was originally embedded into wooden and metal muntins to let more light through the door. French Doors in a way helped revolutionise how people lived in their homes. They not only made the indoors much brighter, but the elegance and class brought on a whole new understanding of home design.
Compared to nowadays, the frame of the doors used to take up a lot more space within the door and the glasses were much smaller in the original French Doors due to security reasons but also production capabilities where not as advanced back then. These days much larger glass panes are used for French Doors and often the muntins are just there for decoration rather than holding the glass in place.
Another very typical feature of French Doors is that there are almost always two identical doors side-by-side that characteristically open outwards to create a wide opening into the garden.
French Doors Origin
French Doors were invented by French architects in the 17th century whom were influenced by Italian fashion to reflect classical proportions and symmetry.
To pay tribute to the heritage of this door style, the name French Doors became widespread when other countries started to copy this elegant door style.
Types of French Doors
External French Doors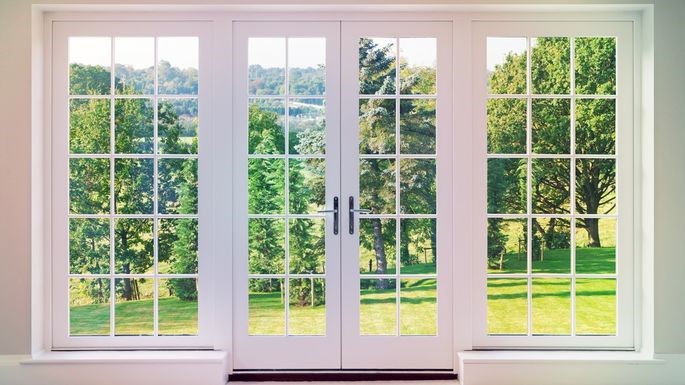 Image source: phototropic
The purpose of French Doors has never changed since their invention – to let more light into the residence.
External French Doors create a passageway from the inside of your home to the outside but they also connect the indoors and outdoors in a unique way in that you can see into your garden from inside and you can see into the house from the outside (provided the sun is not reflecting too much on the glass). Another big advantage of external French Doors is that they can be flung wide open to catch a breeze in the hot summer months.
External French Doors are typically used for easy access into the garden, however you can also opt for French Front Doors/Entrance Doors of course.
Typical external French Doors have two identical and symmetric doors that normally open outwards. The glass panels make up most of the Door surface and the frame and muntins are reduced as much as possible.
Interior French Doors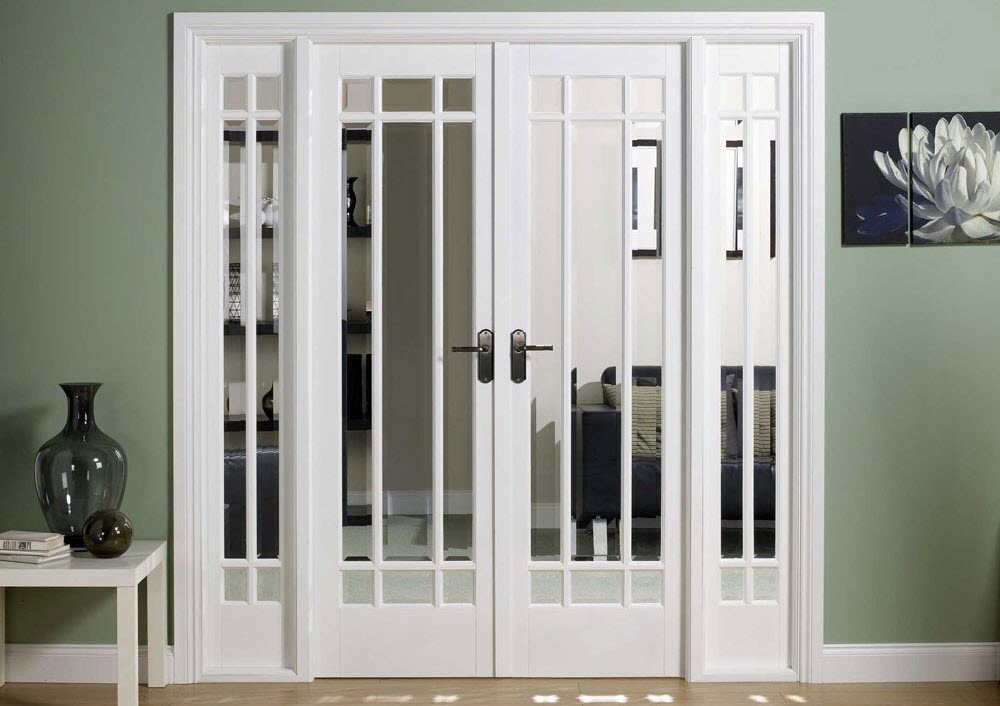 Image source: glassfire.org
Interior French Doors perfectly connect two living spaces inside your home. One of the many benefits with interior French Doors is that you can see through the doors which creates an effect that makes your home appear bigger.
Interior French Doors look very similar to external French Doors. Combining the two in your home creates a consistent style and unique atmosphere.
Sliding French Doors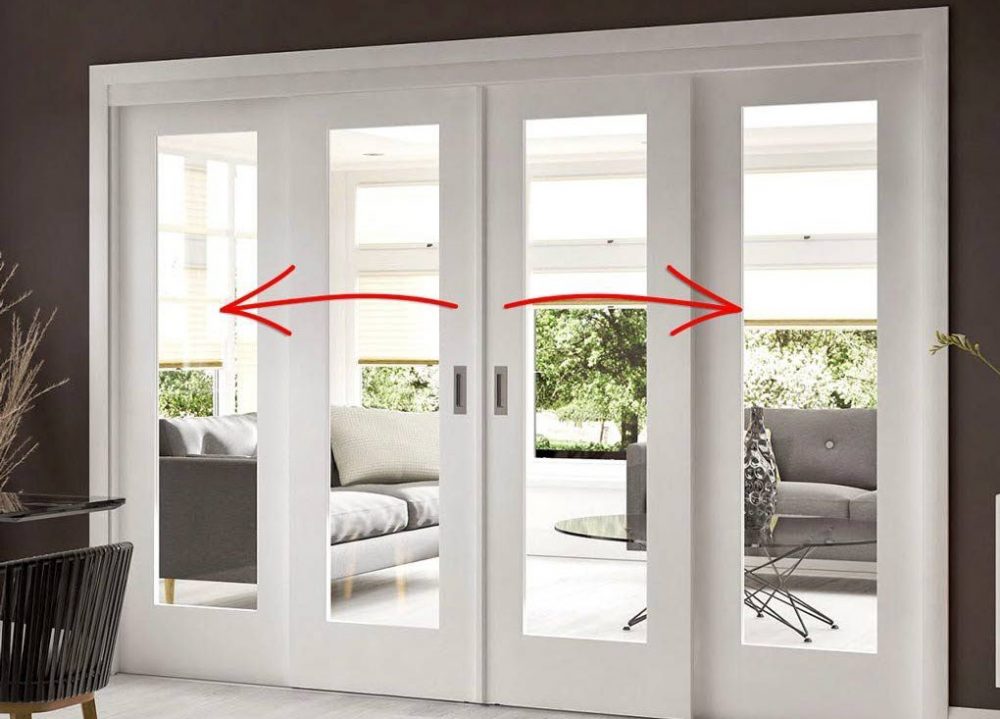 Image source: Pinterest
Sliding French Doors as the name suggests, slide to the side creating a wide opening. With normal patio sliding doors, one door side typically remains in place while the other door slides parallel to it. With French Doors on the other hand, the two doors slide apart creating a wider opening. Usually sliding French Doors have fixed panes on each side and when the doors are in an open state, they overlap those side panes. Another benefit is that sliding French Doors are not going to be in your way as they don't open inward or outward and therefore you don't have to think about where your furniture can or can't go to avoid the doors from banging into your treasures.
Looking for French Doors?
Head over to our French Doors page to get a better idea of the products we have available or get in touch with us and one of our friendly consultants will be happy to tell you all about our product range. We look forward to hearing from you!