Sliding doors add beauty, functionality, and value to your home. Whether you're looking to replace, upgrade, or add a new sliding door (don't forget blinds for sliding doors), you will be enhancing the appeal of your home.
Aside from the apparent fact that sliding doors give access to your yard, porch, or balcony, they also bring sunlight into the house. There's nothing better than sunshine providing natural light to a room. Sliding doors make a room look and feel larger by opening up the view and giving a spacious feeling.
However, to provide shade and darken your home, you'll need to consider which blinds for sliding doors work best in your home. To help you decide, we've split down some of the most common blinds and sliding door options, before recommending the best blinds for sliding doors commonly used in Australia.
Blinds and Coverings for Sliding Doors
Whether it's for privacy or to darken the room, there will be times when you will want to cover your sliding doors. There are several options you can choose from and we've listed some of the most common blinds for sliding doors below.
If you already have sliding doors installed and want our recommended blind option for each sliding door option, jump ahead »
Vertical Blinds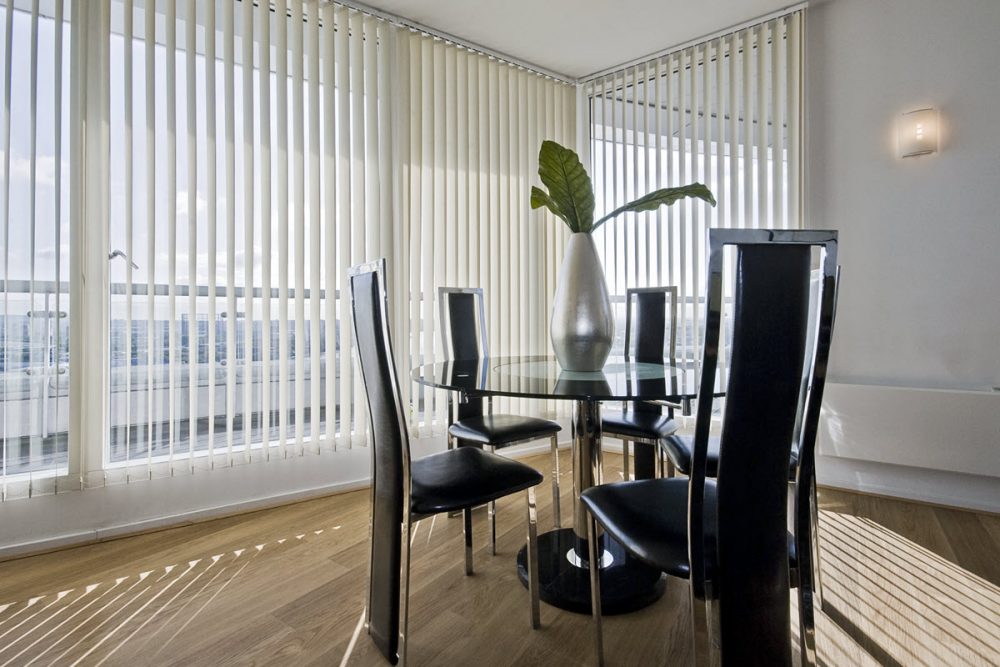 Vertical blinds are an inexpensive way to cover your sliding door.
Typically made from vinyl, vertical blinds are stylish and easy to use. Most vertical blinds come with a wand that is used to open and close them. You can determine how much light you let into the room with a simple twist of the wand.
Vertical blinds will not completely block out the light, but they will darken the room and help protect your furniture from the sun's UV rays. Some blind installers also have powered vertical blind options to make opening and closing your blinds easy.
Roller Blinds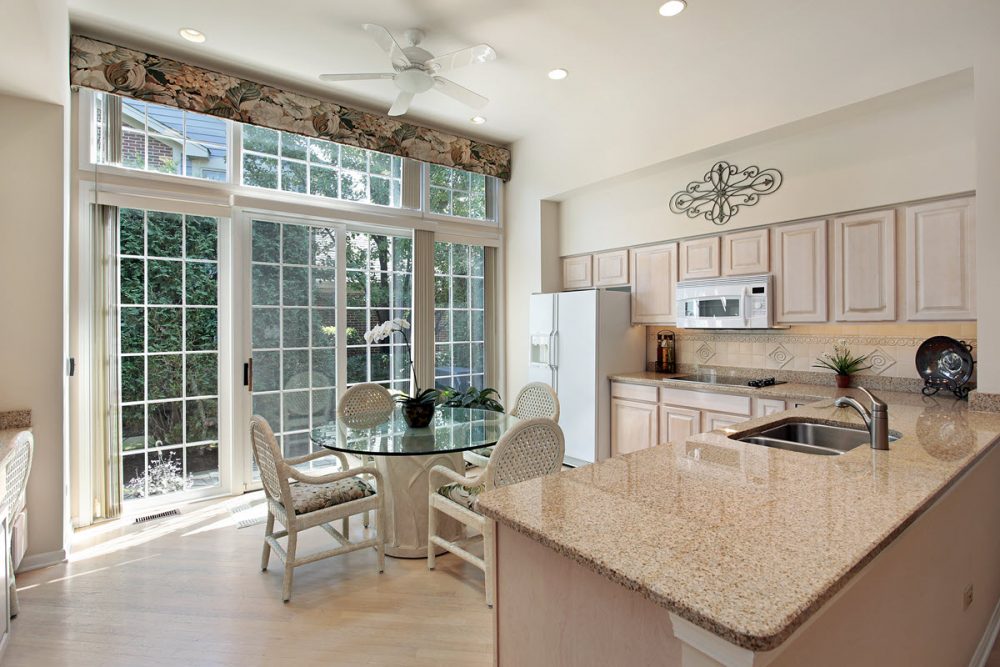 Roller blinds are also known as roller shades or Holland blinds. They are fabric shades fitted to your door; they raise up and down, providing the privacy you seek. These blinds come with many different options, some of which are:
Blockout – perfect for bedrooms or other rooms where the sun beats in and may need to be blocked completely.
Sunscreen – used in rooms where strong UV rays may damage furniture or floors.
Light filtering – while these blinds cannot be seen through, they do allow some light to filter into the room.
Motorised – controlled by remote control or a home hub, these blinds allow you to open and close them without having to get up or even be in the same room. Some can even be hooked up to voice-controlled systems.
Cordless – these blinds are spring-loaded for ease of raising and lowering them. Cords can be dangerous in homes with children or pets, making this a safe option.
Double Roller Blinds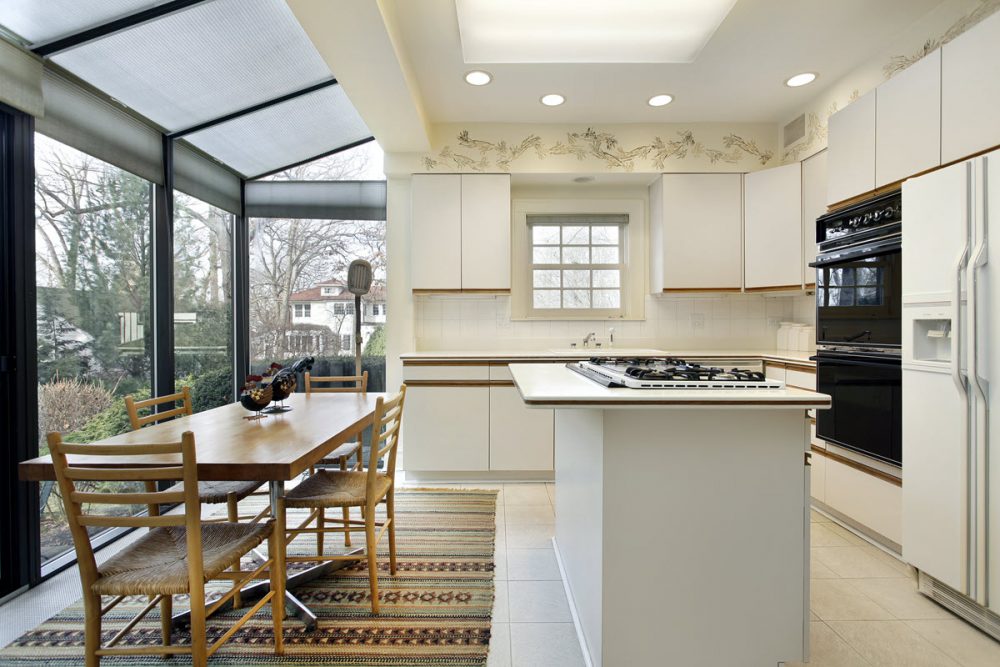 Similar to roller blinds, these blinds raise up and down. They differ in that they are double blinds, offering day or night privacy.
You control if you want light filtering in or complete blockout. These are an excellent option for rooms that have a sliding door with an unsightly obstacle outside, yet you want some natural light to enter during the day.
Curtains and Sheers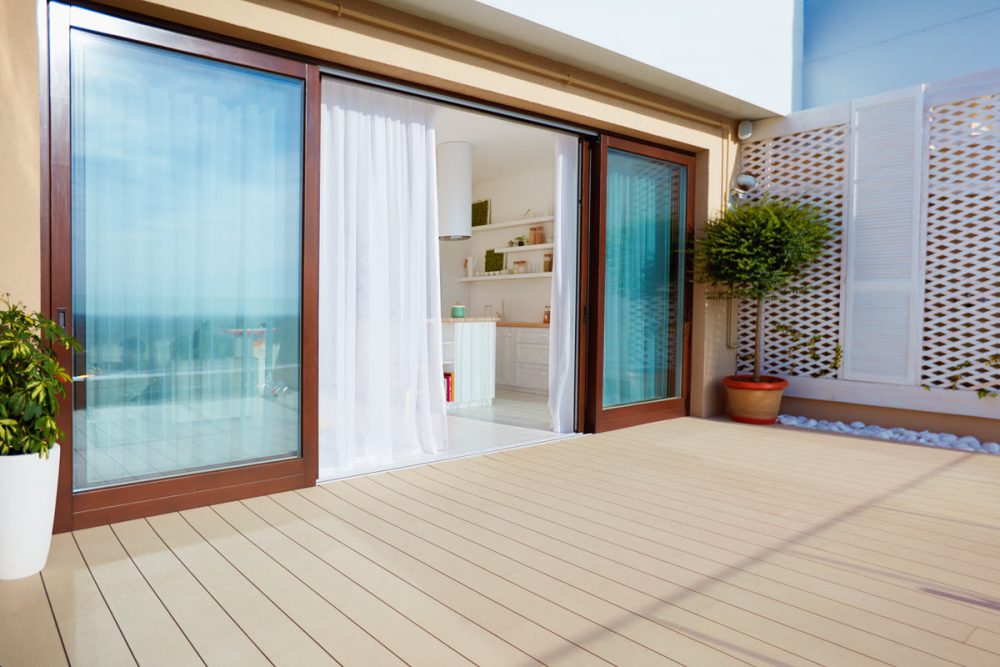 Curtains, sheers, and drapes are another option for sliding doors in Perth.
They come in a wide variety of materials, patterns, and colours, making them a viable choice for any room of the house. They can be mixed and matched with each other.
Sheers and curtains are a common combination, with the sheers allowing some light in and curtains allowing less light. If you are looking for elegance, curtains or sheers may be the best choice for you.
Types of Sliding Doors
Whether you are replacing your existing door or adding a new one to your home, it's good to know what options are available to you. There are many different types of sliding doors available to Perth residents.
Let's take a look at some of the options:
Sliding Aluminium Glass Doors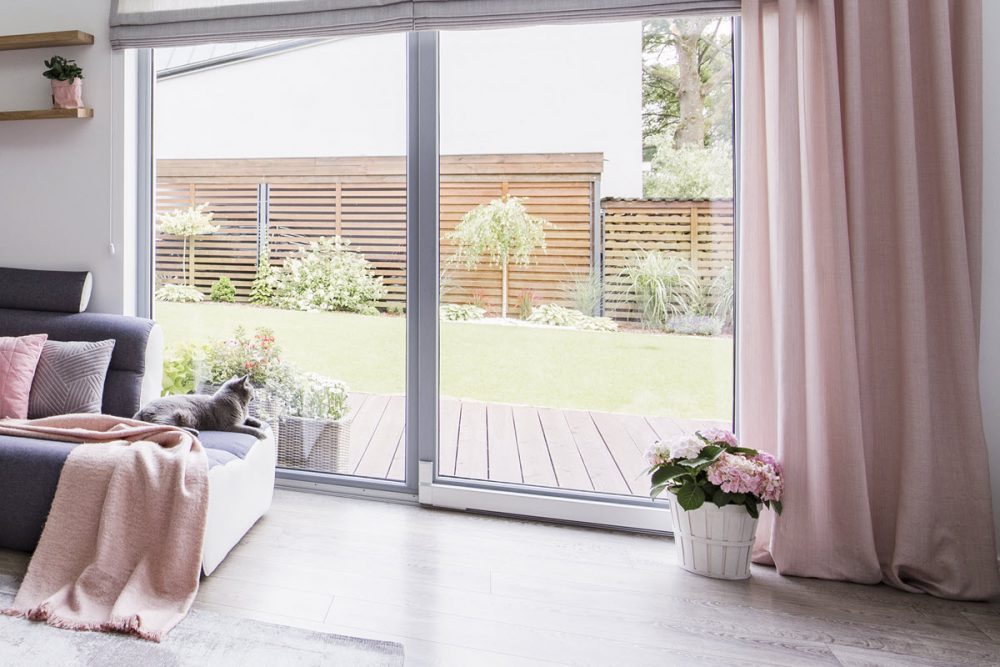 The ever-popular sliding aluminium glass doors have retained its standing as the frontrunner in sliding doors for decades.
You will see these doors in homes, hotels, offices, and other commercial buildings. The glass helps to keep extreme weather out and your desired room temperature in, and in turn helps to reduce energy bills – especially when using double-glazed windows.
Sliding glass doors provide rooms with sunlight and superb views. They are easy to clean and go with any décor or architectural design.
Recommended blinds for glass sliding doors:
For sliding glass doors, we recommend using vertical blinds or curtains, allowing you to open up to ample light when needed, and quick closing to block out the sun. For most houses in Australia, vertical blinds are very common due to the price point being low and replacement parts also being of low cost.
External Side of Sliding Doors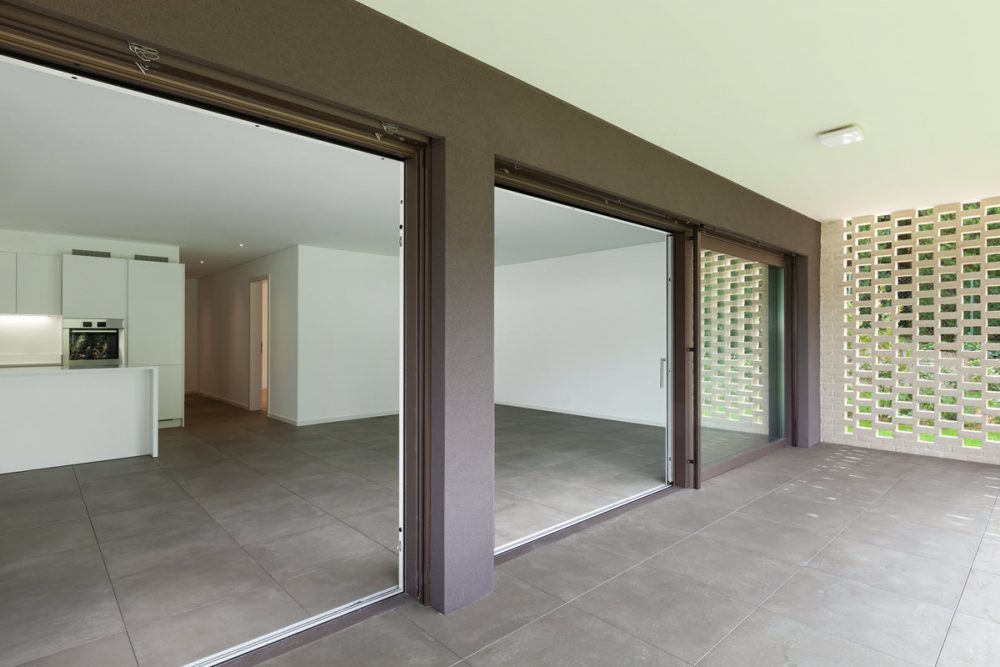 External sliding doors provide entry to the building.
They are perfect for rooms that have an exit to the backyard or patio. Sliding doors are also great for rooms that have a balcony off of them. In addition to homes, these doors are used in offices and other commercial buildings to add access to and from the property.
Recommended blinds for external sliding doors:
Located on the external side of your home or business, external sliding doors commonly won't require blinds as more properties would install the blinds on the internal wall. However, there are some situations where external blinds are required. For this, we recommend durable and long-lasting vinyl blinds, or in particular situations, fixed outdoor awnings above the sliding door.
Internal Sliding Doors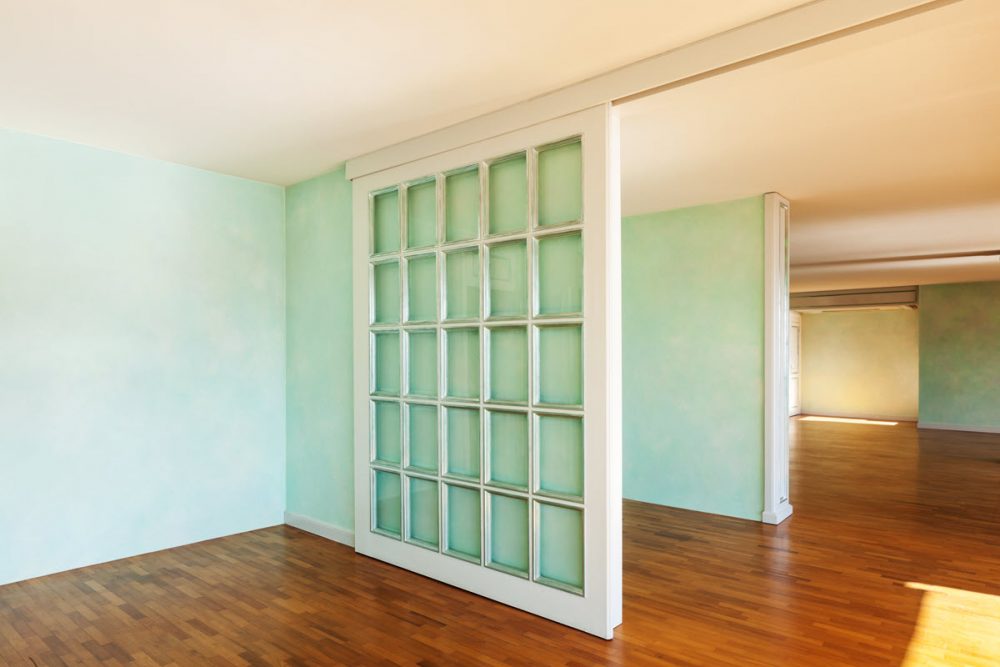 Internal sliding doors add a nice touch to rooms by opening them to another room in the house or building. They add an open space element yet help to keep sound to a minimum when necessary.
A sliding door may be the perfect touch to a home office or home theatre. They are also used in office buildings, especially for conference rooms and glass-walled office spaces.
Recommended blinds for internal sliding doors:
While blinds for sliding doors connecting two internal rooms in the house may not offer many benefits in regards to sun and light, they do create a stylish and modern look to a home. Being primarily decorative, curtain and sheers are usually the best options. Alternatively, look at some decorative internal sliding doors to make a statement.
Security Screen Sliding Doors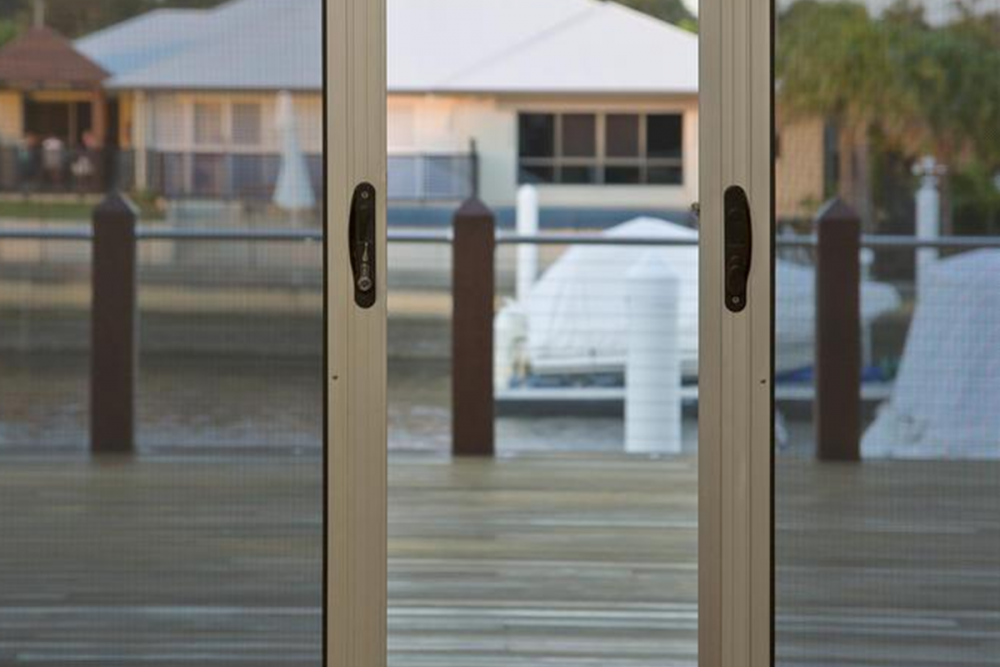 Security screen sliding doors are doors that go on the outside of your sliding glass doors. They are made from reinforced mesh that is installed on panels. Screen doors allow you to open your glass sliding door, letting fresh air in while keeping bugs and other insects outside.
Recommended blinds for screen sliding doors:
For security screen sliding doors, you may not require any blinds as the security screen itself blocks out a lot of the light and prevents prying eyes. If you're unsure of how much light security screens block, head into your local door showroom for a demonstration.
Leave it to the Professionals
As you can see, there are many different types of blinds and coverings available for your sliding door. After reading over them, you hopefully have enough information to start determining which are best suited for you and your home.
Get in touch with Perth Window & Door Replacement Company today for recommendations, or visit our showroom in Malaga, Western Australia.